DiariesOf: Two Adventurous Minds!
Motorcycle Diaries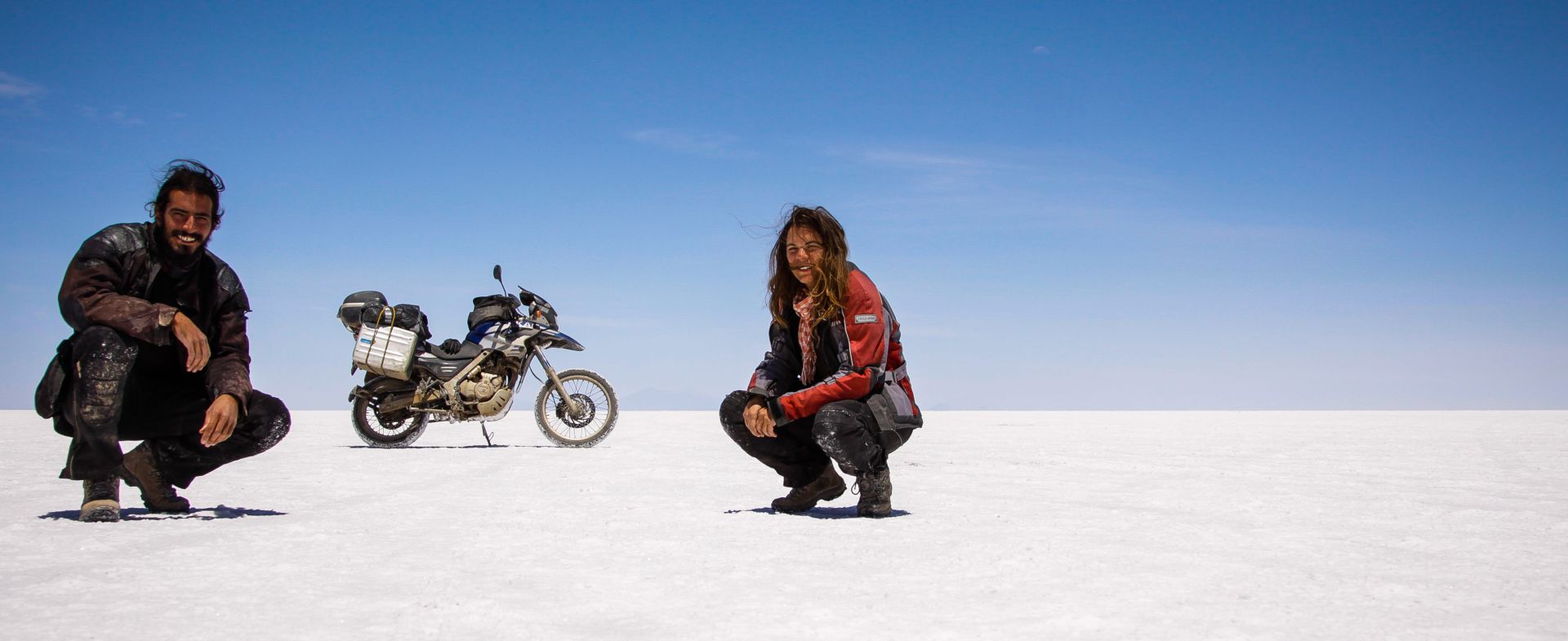 Meet Jorge and Anabela, a Luxembourgish-Portuguese couple with an insatiable thirst for new experiences and a fascination for diverse cultures.
They are so far on a ten-year quest to explore the world's most astonishing landscapes.
Two on two wheels
They have always shared a great passion for traveling, but throughout the years it has always been Jorge's dream to add his other love to their adventures: his motorbike.
Their first attempt at traveling on a motorbike was a 10-day test ride in Iceland, where they faced torrents of rain, cold, and wind. Challenging conditions, but they managed. And Jorge was able to reassure Anabela: "After riding in Iceland you're ready for the rest of the world!" 
Jorge: "We both laugh now at my poor judgement when it comes to choosing Iceland as a location; it is definitely beautiful and worth the visit, but it surely isn't the place to take your girlfriend for a first ride!"
Luckily, the trip didn't discourage Anabela from exploring more. And so the journey 'Diaries Of' began …    
Jorge and Anabela started small, taking breaks from their busy jobs to travel and explore new places. Upon exploring the world and falling in love with motorbike-traveling they soon  realized they needed more time to pursue their passion. But how? Would their jobs allow this? Miraculously in 2013 their bosses granted them a six-month sabbatical to travel through South-America. 
"This trip changed our lives", Anabela says, "It also changed the way we travel. We realised we had too many goals and road maps. So we put our heads together and realised that we did not want to go for quantity, but quality. And time."  
Indeed, this trip proved to be life-changing as they learned the value of freedom, the luxury of having time and the realization that they didn't need all their stuff back home to feel fulfilled.
Jorge: "We all know that time has a limit… it will eventually end. It changed our priorities. Did we really need everything we had back at home? We had been traveling with only one motorcycle and two side cases … it got us thinking. We did not miss anything. On the contrary: we felt complete!"
The couple has been on the road for ten years now, on and off and they have no intention of stopping. Their lifestyle is still unveiling itself experience after experience, place after place. Their fuel is the desire for the unknown, and all that is out there.
Diariesof Magazine
"What is out there is amazing," and they want you to see it.
Diariesof Magazine was born out of a desire to share their experiences and inspire others to see the world. Unique in its approach it focuses on one country at a time, delving into its culture, history, and people, allowing readers to have an authentic and immersive experience. 
Anabela & Jorge: "It is a travel bookazine. This means that it has the quality of a book and the format of a magazine. Its 164 pages are filled with travel stories, photography, interviews, and often also one humanitarian project to raise social awareness. Each issue focuses solely on one country so the reader finds him/herself immersed into one topic. We consider it to be important to explore the different aspects of a culture to better understand it." 
Anabela & Jorge believe that their content serves as eye candy for photography lovers and inspires people to visit the country without disturbing them with too many ads or restaurant recommendations.
They're in their 17# edition now, and you can see here which countries they've already written about.
One of their latest editions, "Riding East," chronicles their overland journey from Portugal to Japan, spanning 47,000 kilometres, 22 countries, and three years, with highlights of their detours, paperwork, and experiences, a treasure trove for any long distance motorcycle journey.
 Anabela & Jorge: "In this special edition, we share our memorable Road Trip from Portugal to Japan overland and on our motorbike: which land route we took, which detours we made, which papers were needed, what difficulties we had, what is special about taking ferries, why we did part of the route on the Trans-Siberian railway, what was in our luggage, how the motorbike performed etc. We also share what we liked the most about each country and the beautiful encounters we had with people from all over the world."
Jorge and Anabela's wanderlust and curiosity continue to fuel their journey, as they explore new places and cultures. They have no plans to stop anytime soon. Check out their website to learn more about their story, read their blog or better yet order their magazine to learn everything about the countries they have explored and follow them on Instagram to join them on their next adventure!
---
#FORYOURRIDINGPLEASUREONLY