This site is all about discovering amazing roads, endless landscapes, hidden places, distant horizons and meeting kindred spirits. We'll add a dash of motorcycle romance to your quests. And discoveries.

This site is a true inspiration haven, a cool starting-point to organize your journeys, trips and life-changing motorcycle adventures. We provide you with an in-house developed itinerary-app allows you to save your favourite journeys, stops and create your personal motorcycle-diary. Here you can connect with other members, share your roads and find inspiration for future road quests. Go!

Why?

The Motorcycle-Diaries-idea goes back to 2008 and is based on two fundaments: Firstly, our job: photo and video productions for the automotive industry and roaming the roads of Europe to find the most amazing roads for the latest car and motorcycle commercials; during the years we have come across so many amazing, yet not-ridden, roads and places frustration seeped it. We wanted to ride these roads!. By 2008 we had a personal road library filled with enough roads to map out the most amazing road trip through Europe we could imagine. We thought it would be gentlemanlike to share these roads with people that do have time to ride them…

Secondly: a little annoyance. In times where we had the time to ride Europe's great roads, the internet did not provide us with what we were looking for. We did not find anything that would match our dreams and help us to plan our trips. Routes and GPX-files, yes, but scarcely documented and most of the time not in the direction that we were aiming for…

So, combining these 2 led to this great database, a rider's haven, with the best riding roads; an inspiration for people who seek free riding based on peer-to-peer road sharing.

So here we are.

We have searched our archives, made several trips and tried to document in such a way that only by seeing the image you will say, yes that road I'll ride. We also tried to make it rather simple to understand, images and icons, so that no language barrier would prevent you not to understand.
Off course we don't know all the roads. We do know, from our productions that local knowledge is the best, so we are inviting everyone that owns a bike and has some great roads in his private gps to share these roads on the platform so that every user of the platform learns about the best riding roads in Europe and can combine these roads in trips that are tailor made to the interests of each of them…

Motorcycle-Diaries

As most of you know the title comes from the Diarios de Motocycletta from Ernesto Che Gevara. He wrote that book before he was a revolutionary following a trip he made on a motorbike to discover the land he lived in. We think riding a motorbike is the best way to discover new places, people and open your mind. Therefor we refer to this title. As who travel learns, and who travels on a bike smiles and learns as we dance with the streets.

Cheers,
Peter-Jan Willems
Rides the WrenchMonkees #70
Born in Ghent, Belgium, 1970.
After enjoying his youth to the full and developing an insatiable appetite for not staying home, PJ went on to study architecture. 5 years and many more travel experiences later - mostly on his motorcycle - his degree was framed and hung on the wall. However, instead of building houses of concrete and steel he chose to join Meta-Media, a Belgian publishing company, and with them created the Magazine MotorWereld.
Having led the magazine for over 3 years, learning his way around deadlines, copy, photography, riding, racing and oil leaks, he traded this exciting position for a job in advertising.
11 years later, in 2009, he finally decided to go his own way... offering all of the skills picked up as a journalist, producer, events manager and professional tourist under the umbrella of Ant-Productions, specialized in automotive productions.
And now he's trying to combine that with Motorcycle-Diaries.com
PJ is among other things also responsible for press relations of motorcycle-diaries.com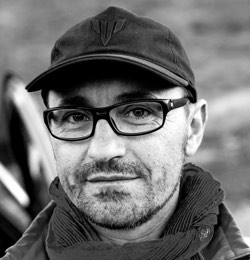 Ruben Guillem
Rides a BMW GS1150
Born 1971 in Alicante, Spain.
At the age of 20 Ruben enrolled at the Centre for Cinematographic studies of Catalonia (Barcelona). After three years of successful film and photography studies, he started working in the motion film industry, and a little later, in commercial films. Since then Ruben has worked in various facets of production, covering more than 200 commercials and 20 feature films. Throughout this time he has combined his work with a lifelong passion for photography resulting in some stunning reportage of Nepal, Mexico and Patagonia,...
Ruben loves to ride bikes, but since working with Ant Productions rarely has the time to…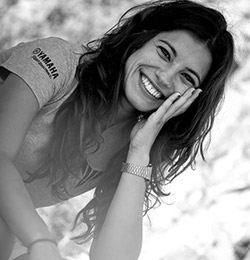 Joana Rodrigues
Rides as pillion
Born in Lisbon, Portugal.
At the age of 20 Joana went to the University to study Traditional Chinese Medicine. She worked only as a Chinese Medicine Specialist until 2013 when she joined Ant-productions, as a freelancer, giving assistance on Yamaha Press Launch events around the world. With the growth of her interest for traveling and for the Motorcycles world, she moved to Holland in July 2016 in order to join Motorcycle Diaries inspiring project. She is passionate about travels, cultures and Nature.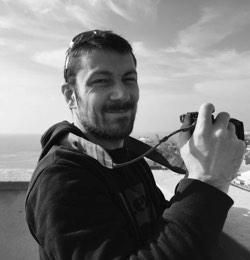 Sebastien Nunes
Rides a Ducati Multistrada 1200
Born in Brussels, 1978.
"Traveller, photographer and two-wheel lover, I'm the happiest man on earth when I'm riding my motorcycle with my favourite camera in the tank bag and many roads ahead to discover. As I often say, when you're in a car you can look at the landscapes but when you're on a bike you're in the landscape ant that's a huge difference.
Motorcycle-Diaries is about discovering new places, riding your motorcycle, sharing experiences and great pictures of the best places you find on the road, and it's exactly what I love to do."
Photo & video production staff: Alessio Barbanti, Henny Berno Stern, Eros Girotti, Javier Lamaignere, Fausto Melero, Romain Surmont, Matteo Bertocchi, Daniel Casselby, Nikolas Gogstad-Andersen, etc etc
the people that helped building the website: Kenneth, Martijn, Jeff, Ives, Sven, ...
And the people that build the bikes: Wrenchmonkees, CH2 racing
and the ones that repaired them:… Bart Verlinden