REV'IT!
Since its inception in 1995, REV'IT! has been on a mission. A mission to design and develop motorcycle safety apparel that is as functional as it is stylish. Motorcycle apparel and accessories that fulfil the needs of the most demanding riders out there. Whether you're a track day enthusiast, a world explorer or a fashion conscious urban rider, REV'IT! engineers gear that performs even better than it looks. Following our design philosophies Engineered skin and Tailored Technology, REV'IT! has set many benchmarks in the motorcycle industry.
Driven by innovation, most of the unique (and often patented) features and fabrics have been developed by our in-house R&D department, tested and approved in our in-house laboratory, giving the company a competitive edge that is straight away passed onto you, the rider.
We want to inspire you to ride. Live your passion, no matter where you are on this planet. Get out and ride! There are so many great roads just around the corner. We hope that the trips and roads you'll find on Motorcycle Diaries will just do that. We have involved our international group of ambassadors to contribute and share their own most inspiring rides on Motorcycle-Diaries, so that they might inspire you to – one day – do the same. To follow the dream that others before you already did.
Discover our world on www.revitsport.com
Follow us on:
DISCOVER MORE
REV'IT! AMBASSADORS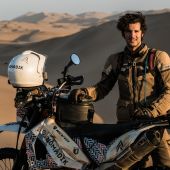 Rides a KTM 690
At age 9 I found a 1980 Honda XR80 under the christmas tree and cut his teeth dirt biking in the Australian bush. After discovering the mountains following high school, I set off travelling, climbing and skiing in Europe for 2 years before hopping the pond where the mountains of British Columbia, Canada have been home for the last 10 years. An interest in travel and adventure writing gave way to a career as a filmmaker after moving to Kashmir, India to make my first film. Having travelled extensively from Central Asia to South America, Greenland to Antarctica, myself and good friend Richard Brown finally completed a dream project to ride motorcycles from Belfast, Ireland to Cape Town, South Africa in 2017.
---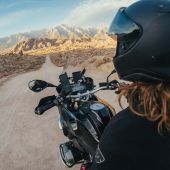 Rides a BMW R1200 GS
BMW 1200 GS rider and lover of all things REV'IT! I've travelled all over North America and Europe and on a GS and hope to see South America, Eastern Europe, and Alaska.
---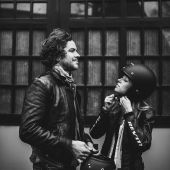 They ride all kind of bikes
We are Pieter and Mandy and we love traveling, photography and motorbikes. We work and live in the Netherlands, but are abroad several months a year when possible. Mandy is a international freelance photographer. Pieter works as Retail Manager at Motozoom, with three stores and a webshop the largest motorcycle wear and accessories store in the Netherlands. Our adventure started early 2014 when we quit our jobs, sold everything we had an bought two motorcycles. We went on a road trip to Mongolia. We crossed 16 countries in three months. After that adventure, we travelled among others to Nepal, India (on several occasions), Australia, Myanmar and during our last trip we went to South America. We drove several kinds of motorbikes but in the Netherlands Mandy currently has a Honda CB500, but dreams of having a Royal Enfield Bullet. Pieter drives a BMW R80 from the early 80's but has thing for Motoguzzi.
Read more about Mandy & Pieter
---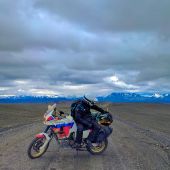 Rides a Triumph Daytona 675
My name is Bryan, I'm 25 years old and i want to ride all our planet on two wheels. This is my goal. I love riding bikes, travelling around the world and create content about it (videos, photos, articles..) . I actually have 3 bikes: - Triumph Daytona 675 - Honda Africa Twin 750 RD04 - KTM 125 EXC Every years, we plane different road trips with different sections (road and off-road) Follow my adventures on Youtube: Black Market on Instagram: Blk.mrkt on my web site: http://www.ridewithblkmrkt.com on Facebook: blkmrkt
---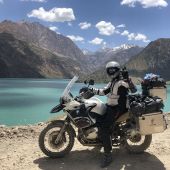 Rides a BMW R1200GS Adventure
Born and raised in Warsaw, Poland. Grew up in automotive environment also with passion for motorcycle. First step on the bikes he did at the age of 10. The first motorcycle was Honda MTX80 from 1985. For 5 years he spends every holiday on the moto-trips. Together with his wife their passed most of the nice roads in Europe, especially on the south side. Works daily as a Commercial and Video Content Producer, nearly 2 years ago he started the "Love For Ride", website about motorcycles and roads where he based its communication on video.
Read more about Adam Dąbkowski
---
Rides a Husaberg 390
As an east coast (US) dirt rider, I've made it my personal mission to explore any trails and roads I'm able to - both locally and further afield - as far as Utah, Colorado, California and into Canada - BC and Quebec. I primarily ride dirt on my Husaberg 390 but I started riding on an ADV bike and occasionally ride street as well. I've been a member of the REV'IT! Women's Team for the past three years where I've had the awesome opportunity to ride with amazing women from around the US in gear that was designed for the challenges I put it through. Find me @millieonthemove on instagram!