REV'IT!
Since its inception in 1995, REV'IT! has been on a mission. A mission to design and develop motorcycle safety apparel that is as functional as it is stylish. Motorcycle apparel and accessories that fulfil the needs of the most demanding riders out there. Whether you're a track day enthusiast, a world explorer or a fashion conscious urban rider, REV'IT! engineers gear that performs even better than it looks. Following our design philosophies Engineered skin and Tailored Technology, REV'IT! has set many benchmarks in the motorcycle industry.
Driven by innovation, most of the unique (and often patented) features and fabrics have been developed by our in-house R&D department, tested and approved in our in-house laboratory, giving the company a competitive edge that is straight away passed onto you, the rider.
We want to inspire you to ride. Live your passion, no matter where you are on this planet. Get out and ride! There are so many great roads just around the corner. We hope that the trips and roads you'll find on Motorcycle Diaries will just do that. We have involved our international group of ambassadors to contribute and share their own most inspiring rides on Motorcycle-Diaries, so that they might inspire you to – one day – do the same. To follow the dream that others before you already did.
Discover our world on www.revitsport.com
Follow us on:
DISCOVER MORE
REV'IT! AMBASSADORS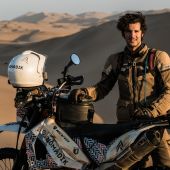 Rides a KTM 690
At age 9 I found a 1980 Honda XR80 under the christmas tree and cut his teeth dirt biking in the Australian bush. After discovering the mountains following high school, I set off travelling, climbing and skiing in Europe for 2 years before hopping the pond where the mountains of British Columbia, Canada have been home for the last 10 years. An interest in travel and adventure writing gave way to a career as a filmmaker after moving to Kashmir, India to make my first film. Having travelled extensively from Central Asia to South America, Greenland to Antarctica, myself and good friend Richard Brown finally completed a dream project to ride motorcycles from Belfast, Ireland to Cape Town, South Africa in 2017.